March 22, 2018
Eden Labs Adds Orange Photonics LightLab Validation Components to Extraction Systems
Eden Labs, in response to the extraction industry's continuing demand for increased precision, will be offering the proven LightLab cannabis analyzer from Orange Photonics as part of their continued effort to aid in their customers' success.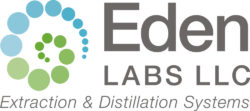 "This addition to our proven precision extraction systems provides real-time measurement and quality controls as they extract active components from cannabis and other botanicals," notes AC Braddock, CEO of Eden Labs. "By offering LightLab as an option or add-on to our Eden Systems, our clients will be able to test the makeup of the base material before, during and after extraction, including material selection and harvesting timelines. We are very excited to offer this added value to our customer experience and their bottom lines."
"Eden Labs has more than a 20-year legacy of being supporters and advocates for their customers. By offering Orange Photonics LightLab, they are again looking to increase their customers' analytics and business productivity. With in-line knowledge of what is going into the Eden Labs extraction vessel, as well as time-based knowledge of the extracted material, their customers can document yield as well as the unique kinetics of the extraction," noted John A. MacKay, PhD, Synergistic Technologies Associates Founder and CEO.
"Eden Labs' focus on the science of extraction, customer relationships and its commitment to deliver robust flexible systems made them a natural partner," says Stephanie McArdle, President of Orange Photonics. "Orange Photonics' goal is to enable industry growth by providing accessible cannabinoid data, so industry innovators can develop better formulations and identify and eliminate process inefficiencies. Eden Labs extraction systems are high throughput, so knowing exactly how long to run them depends on how much of the constituent is originally in the material and when it is spent. From harvest testing to material purchase or processing and especially, toll processing, LightLab provides valuable data points for the extraction process."
Eden's platforms provide significant flexibility and production capacity. LightLab gives Eden's customers cannabinoid content information in-line, creating the opportunity to leverage the flexibility of their equipment. LightLab is a valuable "must have" quality control tool for businesses producing any kind of concentrate.